โปรแกรม Affinity เป็นโปรแกรมที่ช่วยให้สถาปนิกที่ออกแบบโครงการที่มีขนา​ดใหญ่ หรือที่มีความต้องการการใช้​งานซับซ้อน ทำให้จำเป็นจะต้องการสร้าง Schematic และ Programing ในการออกแบบ หรือ ผู้ออกแบบต้องการสร้างขบวนก​ารออกแบบไว้ใช้งาน (Methogology) ทำให้งานที่ออกแบบรวดเร็วขึ้น มีคุณภาพมากยิ่งขึ้น และ ใช้เวลาในการออกแบบสั้นลงกว่าเดิม โดยสร้าง Function ของพื้นที่ และ ความสัมพันธ์ระหว่างแต่ละ Function และหากมีการแก้ไขข้อมูลจะทำ​ให้โปรแกรมช่วยแจ้งให้ทันที​ว่า เกินที่กำหนดไป ทำให้สถาปนิกแก้ไขได้ทันท่ว​งที

โปรแกรม Affinity เป็นโปรแกรมนวัตกรรมใหม่ในว​งการออกแบบสถาปัตยกรรมของโล​ก ที่ออกแบบโดยสถาปนิกเพื่องา​นสถาปนิกโดยเฉพาะ ซึ่งมีโปรแกรมแบบ Stand Alone ใช้งานได้เลย หรือ โปรแกรมที่เชื่อมต่อกับโปรแ​กรมออกแบบสถาปัตยกรรมได้เช่​น Revit, Sketchup เป็นต้น

โปรแกรม Affinity เป็นโปรแกรมนวัตกรรมใหม่ในว​งการออกแบบสถาปัตยกรรมของโล​ก ที่ออกแบบโดยสถาปนิกเพื่องา​นสถาปนิกโดยเฉพาะ ซึ่งมีโปรแกรมแบบ Stand Alone ใช้งานได้เลย หรือ โปรแกรมที่เชื่อมต่อกับโปรแ​กรมออกแบบสถาปัตยกรรมได้เช่​น Revit, Sketchup เป็นต้น

● Features
Architectural Project Programming
1. Enter program data in Affinity questionnaire
• Project properties
• Site properties
• Building properties
• Space Program
2. Identify key requirements
• About the program
• Regarding cost or space
• Relational information
• Track general information as text


Schematic Design
1. Define and lay out the site
• Size, shape, rotation, setbacks, survey data, topology
2. Layout the building
• Stories
• Spaces and specific rooms
• Openings and objects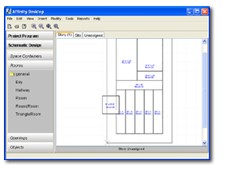 Project Analysis & Validation
1. Analyze the plan
• Review the program data
• Evaluate the history of requirements
• Report on details or overview
• Create HTML or Microsoft® Excel reports
• Track history of changes
2. Validate compliance with requirements
• Review flagged requirements not being met
• Report on requirements
• Build custom reports for any constituent
• Feed Program Data into Detailed Design
3. Export to CAD and other software systems
• Output to DXF, CSV formats
4. Use Affinity for ArchiCAD plug-in for full CAD integration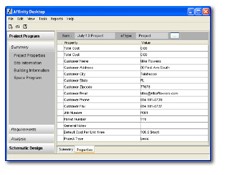 Customize Affinity Templates to Model Your Firm's Processes
1. Purchase a specialized building type template built by Trelligence
2. Work with your reseller to create a template unique to your firm
3. Use the Affinity Toolkit to create a template yourself
4. Dynamically add design items such as room types, openings or objects to the schematic design toolset
What's new in Affinity Release Update 5.6.2
REVIT INTEGRATION
Auto-generation of Affinity Objects from Revit Families

Synchronization of Multiple Linked Revit Files
Automatiaclly generate Afflnlty Template room objects fromexisting Revit Familles. Users can select Which Revit Familiesto generate during synchronization, ensuring Affinity objectlibraries fully match, without Maual intervention.
New Affinity Perferences permit greater control over synchronization ofmultiple linked Revit files with a single Affinity project file.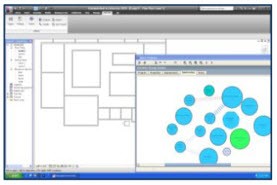 FEPORTING
Complex Reports & Tables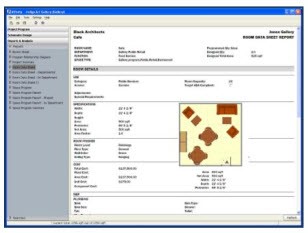 Lncorporate multiple report items and various formasts into a singleAffinity report.
•Complex Tables - Multiple report items canbe added to Individual table cells, enabling users to create arbitrarily complex Tables- i.e. picture grids and tables within tables.
•Headers & Footers – Expanded content options are available for Headers and Footers including company logos and page numbers.

Iterative Loop Item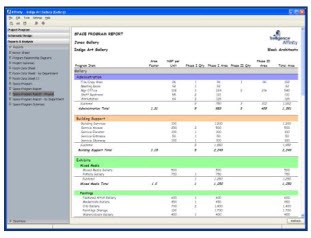 Algorithmic report items (e.g. loops and branches) enable even morecomplex report structures.
•Increased efficiency - Add just one Iterative Loop item to the Report to gather information on multiple project program items.
•Expanded Usability – Reports with Iterative Loop items can be applied to multiple project files and can also be completed prior to finalization of the project program.

Greater Consistency, Flexibility, and Control
Affinity's improved standards-based report rendered results in greaterconsistency,flexibility, and control over printing and formatting. Print settings are now independent of the user 's browsers print settings, bringing greater consistency and user control over formatting.

Report Editor Improvements
Quickly enter report content In the Report Editor by using shortcuts (i.e.#pagenumber#) instead of the longer html code strings.

Improved navigation and editing controls in the Report Editor speed up the report buildingprocess.
GOOGLE SKETCHUP INTEGRATION
2-Way Integration with Sketch Up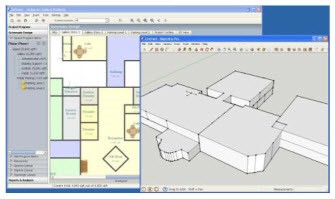 Bi-directional integration between Sketch Up Pro and Affinity allows for easy manipulation and improved presentation of the 3-Dimensional building view.
•Quick 3D Manipulation – Use SketchUp to manipulate the 3D building footprint and envelope.
•Quality Presentation – Develop presentation-quality rendering and graphics while keeping all design data fully op-to-date.
•3D Design + Analysis – Combines the 3D rendering and manipulation capabilities of SketchUp with the data-driven programming and reporting power of Affinity.

SCHEMATIC DESIGN
Additional Color ForBackgroundimages
Additional control over the color depth in background images. DPI options range from 75 to 300 for batter quality and fast system performance. Improved Formatting of Room Labels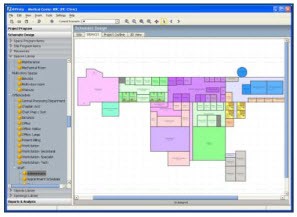 Wrapping & Centering - Room labels will automatically center and wrap/unwrap to fit the size of the space in the Schematic Design view, and in print views

Scaling – Define the scale using the new Label Scale property I the View Settings dialog. Scale percentages are set as integers, e.g. a scale value of 2 will double the label size; a value of.5 will decrease it by 50%

PERFORMANCE & USABILITY
Project – Level Settings
Affinity view settings, wall settings, and calculation of area (centerline/surface) are now set at the project level, enabling automatic sharing of custom project-specific settings amongst all project team members.

Improved Performance
Affinity 5.6.2 is faster and requires less memory, resulting in decreased load times and improvements in overall performance.

PROGRAMMING
Improved Usability, Flexibility, and Control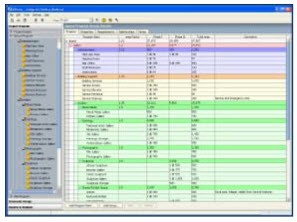 Affinity Architectural Programming includes several usability enhancements that increase user productivity during the programming process.
•New configurability tools – allow the user to create fully custom programming views to focus on the task at hand.
•Additional data editing tools – speed up the entry and editing of programmatic data for greater efficiencies.

Documents
What's New in Affinity 7
Brochure
Facrsheet

● Video
https://www.youtube.com/watch?v=5Q7HyM_r3LA
https://www.youtube.com/watch?v=pC1075gO2aY
https://www.youtube.com/watch?v=9sWqla9Q4vw
https://www.youtube.com/watch?v=P_zOzICIm7U
https://www.youtube.com/watch?v=Wn1wbBtXi4Q

● Who Bebefits
Affinity Brings Stronger Communication to the Architectural Team
As a communication tool for planning a building, Trelligence Affinity delivers important benefits to the entire AECO team. Individuals on the team may choose to run Affinity and share project files and building templates or custom, Flash-based questionnaires can be filled out by non-Affinity users to capture planning information over the Internet.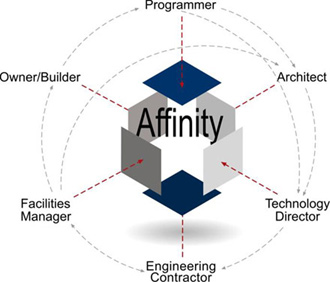 Programmers
•Organizes requirements
•Customizable, reusable templates for different building types
•Ties program to schematic design reducing data entry
•Improves client satisfaction and encourages interaction

Architects
•Encourages creative solutions
•Integrates with CAD/BIM
•Accurate, quick schematic tools
•Links design and program data

Engineering Contractors
•Incorporates complete program
•Identifies inconsistencies early on
•Reduces rework and the associated cost
•Allows for early involvement
•Tracks the client's goals

Owner/Developers
•Documents and tracks full set of requirements
•Helps visualize concepts
•Estimates cost at an early stage
•Identifies issues before problems arise
•Provides a platform for what-if scenarios

Technology Directors
•Reduces miscommunication
•Models program and design processes
•Reduces time-wasting rework and costly errors
•Integrates with existing software

Facilities Managers
•Provides planning framework
•Allows for restacking scenarios
•Provides a baseline for commissioning
•Increases communication with the building constituents

Requirements
Hardware Requirements
•Microsoft Windows® XP. Vista or Win 7 (32- or 64-bit)
•Diskspace: 100 MB
•Memory: 1 GB required, 2 GB recommended
•Screen Resolution: 800x600 pixels minimum
•Recommended: scroll-wheel mouse for schematic design zooming