ADAPT Floor Pro 2018
โปรแกรมวิเคราะห์และออกแบบพื้นคอนกรีตอัดแรง (Post Tensioning) และคอนกรีตเสริมเหล็กแบบ 3 มิติ ซึ่งพัฒนาโปรแกรมโดย Prof. Dr. Bijan O. Aalami , USA. มากว่า 30 ปีจากประเทศสหรัฐอเมริกา ปัจจุบัน ADAPT Floor Pro เป็นโปรแกรมยอดนิยมใช้กันแพร่หลายทั่วโลก กว่า 100 ประเทศรวมจนถึงประเทศไทย สำหรับบริษัทพื้นคอนกรีตอัดแรง และวิศวกรออกแบบโครงสร้างอาคารสูง อาคารขนาดใหญ่โดยเฉพาะ
ADAPT Floor Pro เป็นโปรแกรมที่ใช้กันวิเคราะห์ด้วยวิธี Finite Element Method เป็นโปรแกรมทำงานได้เดี่ยวๆ ในการออกแบบพื้นอาคารทีละชั้น และยังสามารถทำงานร่วมกับโปรแกรม ADAPT Builder ในการโมเดลอาคาร 3 มิติทั้งหลัง เพื่อที่จะสามารถโมเดลอาคารสูงได้ง่าย และทำงานร่วมกับโปรแกรม ADAPT EDGE และ ADAPT MAT ในโปรแกรมตระกูล ADAPT และ ยังสามารถทำงานร่วมกับโปรแกรมที่รองรับระบบ BIM (Building Information Modeling) อื่นๆได้ เช่นโปรแกรม Revit ที่สถาปนิกขึ้นโมเดลอาคาร 3 มิติไว้แล้ว ทำให้วิศวกรโครงสร้างนำมาใช้งานต่อได้เลย โดยไม่ต้องเสียเวลามาขึ้นโมเดลอาคารใหม่อีกรอบ โปรแกรมยังสามารถทำงานร่วมกับโปรแกรมวิเคราะห์ออกแบบโครงสร้างทั่วไปได้ เช่น ETABS,TEKLA เป็นต้
Applications
Flat slabs (commercial, residential, hotel, healthcare)
One-way beam and slabs (parking structures)
Waffle slabs
Investigation & repair of existing concrete slab systems
Modal vibration analysis of concrete floor systems
Beam and slab systems
Podium slabs
Transfer slabs
ADAPT Website
ADAPTsupport

ADAPTsupport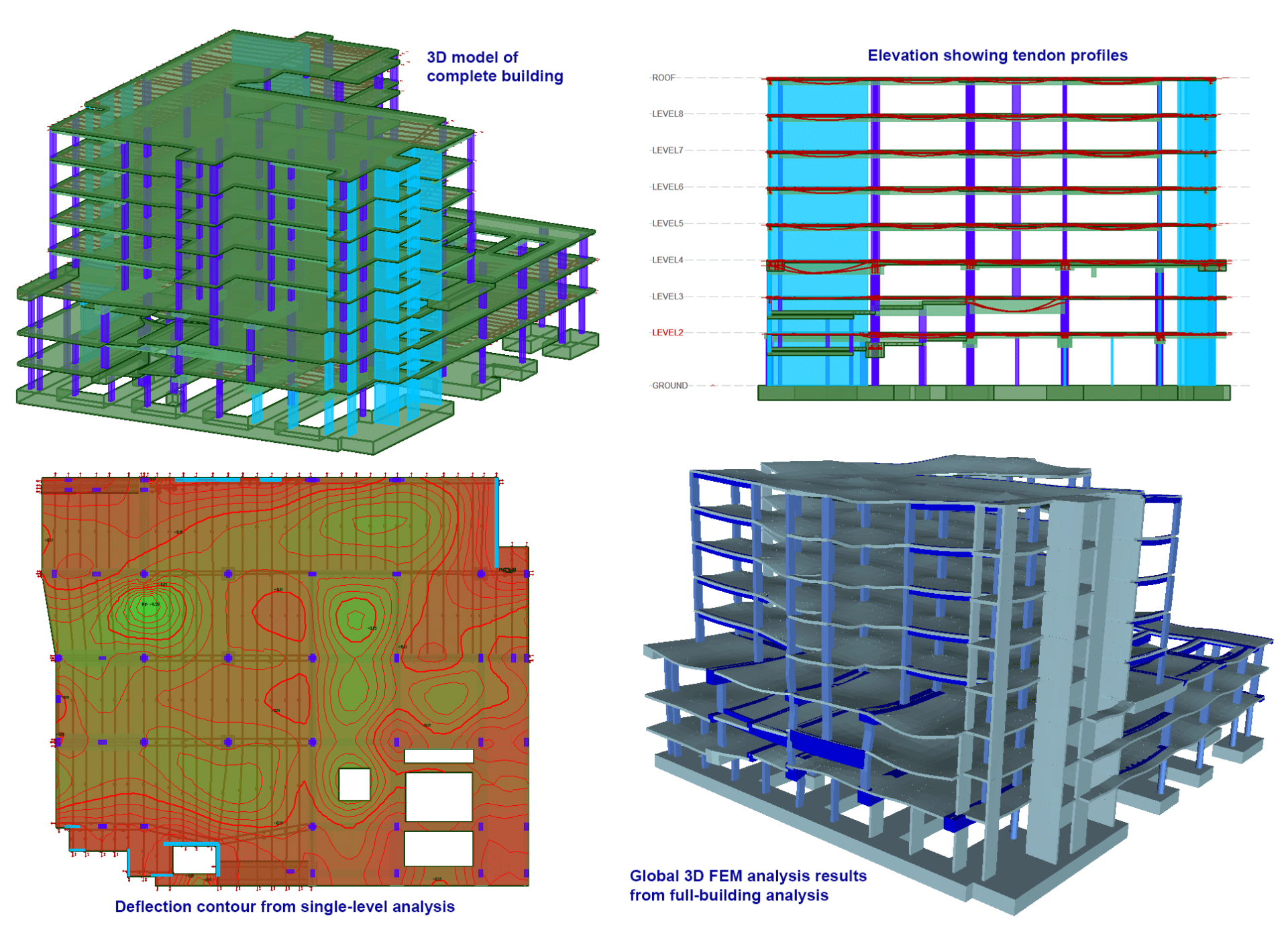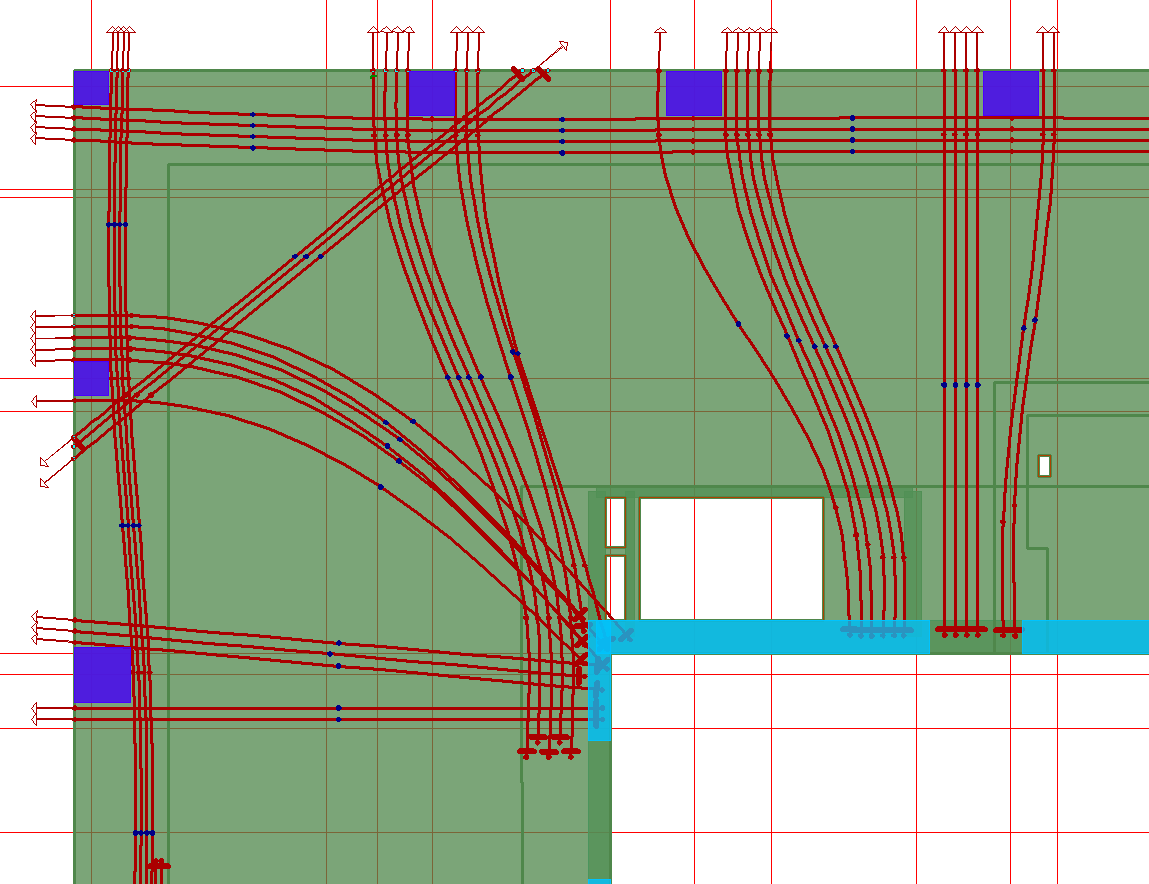 Features

Structural Modeling
Generates a true 3D solid physical model of an entire floor system or complete concrete building
- No simplification of geometry or manual creation of analytic model required
- Uses smart components to assemble an entire floor system: slab regions, walls, beams, columns, drop caps, drop panels, rebar, tendons and openings
- Models steps above and below the slab as well as any type of slab depression
- Define standard concrete sections or generic steel members
Streamline modeling process by importing DWG/DXF files and intelligently converting to structural components

One-click switches between single- and multi-level modeling modes

Define multiple stiffness profiles for your model, e.g., uncracked for gravity and cracked for global lateral analysis

Coordinated multi-level modeling saves time and reduces errors

All slab models for a project can be in one model file

Flexible definition of component releases and boundary conditions

Handles complex models with ease and accuracy

Models can be supported on columns, walls, point supports, line supports, or any configuration of springs (point, line or area representing soil)

View and examine 3D rendered solid model to verify the accuracy of the structure's representation

Loads
Apply loads of any configuration, anywhere on the slab

Supports live load patterning and automatically reduced live loads, where applicable

Define gradient or uniform temperature loading

Subject model to shrinkage strain

Can model internal lateral load reactions imported from ETABS

When used with Edge, analyzes structure for any applied building lateral loads including wind and seismic forces


Tributary-Area Based Load Takedown Patented
algorithm automatically breaks down any concrete floor system into tributary regions (US Patent No.: 9,471,720)

Automatically detects discontinuities in columns and walls and transfers loads down to foundation

Calculated tributary-area based load takedown

Use tributary loads to design columns, transfer slabs or beams

Graphically compare tributary loads against FEM results - excellent method to check your models

Post-Tensioning and Prestressing
Uses integrated tendon modeling as opposed to "balanced loading". This overcomes many of the approximations and shortcomings inherent in the conventional modeling of post-tensioning. Ask ADAPT to email you a technical note on its modeling approach [Aalami, Bijan, O "Structural Modeling of Post-Tensioned Members." American Society of Civil Engineers, Structural Journal, February 2000, pp. 157-162]

Model bonded or unbonded tendons

Layout tendons using straight or spline span segments

Swerve tendons around openings while maintaining vertical curvature

Design using effective force or specify stressing ends and friction loss parameters

Calculates prestressing force in members as well as secondary restraining effects (hyperstatic moments) due to prestressing

Tendon generation wizards for banded and distributed tendons

Automatically or manually model and dynamically edit tendons in plan or elevation view online video ...

Tendon curvature check against a minimum horizontal and vertical radius of curvature

Automated tendon clash detection

Program calculates and graphically shows force along tendon


Analysis Capabilities
Industry leading automated 3D finite element meshing algorithm

Performs a detailed finite element analysis of the entire floor systems and its supporting structure using shell and frame elements

Unlike other slab programs in the market that are dressed up 2D plate software, ADAPT-Floor Pro is based on a true 3D finite element model

Smart components automatically establish required FEM connectivity, eliminating need for manual fine-tuning of analysis model

Calculates cracked section deflections

Carries out integrated modal vibration analysis on complete model or any user-defined sub-region
- Considers cracking when calculating frequencies
When used with Edge, multi-story building models generated in Floor Pro can be analyzed for gravity and lateral loads
Design and Automatic Code Checks
Easily define support lines - even for complex geometries

-Support line wizard
- Automatically generates all critical design sections
- Column strip / middle strip option
Performs code check and reports the location and amount of reinforcement needed for entire floor system

Define arbitrary manual design sections - software calculates actions, required rebar and moment capacity

Provides instant graphical design feedback in model by displaying:

Stresses - top and bottom against code allowable values

Design actions along support lines

Average precompression

Percent dead load balance

Deflection along support line showing L/Def values per span

Member forces - columns, beams and walls

Allows user to design for specified crack width

Shows calculated crack width contours on slab

Wood-Armer design option

Calculates punching shear stresses, performs checks, and specifies stirrup or stud rail reinforcement needed

Designs and specifies one-way shear reinforcement for beams

Reinforcement display per load combination, either along support lines or with user-defined orientation view online video ...

Edit graphical rebar layout report to optimize rebar layout

When used with Edge, automatically combines gravity analysis results carried out at slab level with lateral load solution obtained at building level

Click here to see graphic of Floor Pro design process...

Output and Reports
Detailed quantity takeoff report

Generates both professional and ready-to-submit graphical and tabular reports

Exports all geometry, reinforcement and tendon information to DWG or DXF format

Export rebar design as 3D model objects into Revit Structure

Create column loading and design tables in XLS format

Licensing Options
Multi-user network or stand-alone versions
Download with soft license or flexible USB dongle
Dynamic Rebar Design and Detailing (DRD)

Model typical reinforcement as base reinforcement using either mesh rebar, single bars or distributed rebar

Edit calculated reinforcement graphically using rebar libraries to optimize rebar layout

Freeze your final rebar layout by converting it to base rebar

Carry out strength investigations and generate demand/capacity curves for critical sections

Each base reinforcement can have unique cover and material properties


PT Shop Drawing Module
Perform friction and elongation calculation

Manage and display tendon chair heights

Calculate tendon quantities and generate tendon specific reports

Click to view brochure and examples...

Codes

The program supports the following design codes:ACI-318 (1999, 2005, 2008, 2011 and 2014)

IBC [International Building Code] (2006, 2009, 2012 and 2015)

British-BS8110 (1997)

Canadian-A23.3 (1994)

Canadian-A23.3 (2004)

Canadian-A23.3 (2014)

Australian-AS3600 (2009)

Brazilian-NBR6118 (2014)

Indian IS456 (2005 reprint)

European EC2 (2004)

Hong Kong-CoP (2013)

Chinese-GB50010 (2002)

Singapore SS EN 1992-1-1/NA:2008-06 Annex to EC2

Integration
The program integrates with the following third party programs and file formats:Autodesk® REVIT® Structure 2015 - 2019: 1:1 bi-directional integration with physical model including loads, reinforcement can be imported back into REVIT®
ETABS: import geometry lateral and gravity loads including load cases more information ...
Import and export of DWG/DXF files
Units
The program supports the following units:
SI

MKS

American Customary

Hardware Requirements
64 bit PC running windows 7, 8 or 10

Minimum of 4 GB RAM

Available hard drive space of 1 GB

Mat (Raft) Foundation Design

To model and design soil or pile supported foundation mat (raft) foundation systems, use ADAPT-MAT. All the modeling and intelligent features availabe in Floor Pro are also available in MAT.

Design of Ground Supported Slabs (SOG) on Expansive Soil

To model and design post-tensioned slab-on-grade projects on expansive soils, use ADAPT-SOG. It offers a 3D finite element modeling approach for slabs supported by soil and subject to applied ym displacements.

Link with ADAPT-PT and ADAPT-RC

The structural model generated can be used with no modification to run either on ADAPT-PT, or ADAPT-RC, both of which are based on Equivalent Frame Method. Conversely, the User can first design the floor system using ADAPT-PT, determine the optimum force, profile and location of the post-tensioning. and then within the same model run the ADAPT-Builder-Floor Finite Element Analysis. The procedure is detailed in a PTI publication [Aalami, Kelly, "Design of Concrete Floors with Particular Reference to Post-Tensioning,