ซึ่งเป็นการสร้างบ้านหลังแรกที่เยอรมันนีด้วยเครื่องพิมพ์ 3 มิติ ใน Beckum ซึ่งออกแบบโดย MENSE-KORTE ingenieure+architekten ด้วยโปรแกรม Allplan.



As a highly automated construction method, 3D printing is one of the promising technologies of the future, especially when it comes to manufacturing curved components. At the moment, however, large-scale additive manufacturing processes are still in their infancy. While the first building prototypes have already been produced additively in some countries, Germany has so far remained a pioneer in this field. This is now changing. In Beckum, North Rhine-Westphalia, not only Germany's first, but also fully approved house is currently being built from the 3D printer. It was designed by MENSE-KORTE ingenieure+architekten - with Allplan. The 3D printing pioneers see enormous potential in the new building technology.


High degree of design freedom

The initiator of the project is Georgios Staikos from Beckum. The operator of the company nico INNENAUSBAU approached Waldemar Korte (partner of MENSE-KORTE) with his idea of printing a single-family house, and he quickly became enthusiastic about it. Together with two other partners, they founded the HOUS3DRUCK community of builders, which is now realizing the project. The architect sees a whole range of advantages in the machine manufacturing method: "3D printing offers a high degree of design freedom that would only be possible in conventional construction at great financial expense."

© MENSE-KORTE, ingenieure+architekten

As with other printed houses, the Beckum project follows the contour crafting principle developed by Behrokh Khoshnevi, in which building components are digitally manufactured - layer by layer - without manual labor. The promising pilot project is being supported by the state of North Rhine-Westphalia with 200,000 euros. PERI is responsible for the execution. The experts for formwork and scaffolding systems produce approximately one square meter of wall surface in five minutes with their giant gantry robot - and completely without formwork.


Printing material: Special concrete i.tech 3D

For the process to work, the two-centimeter-wide concrete sheets that the printer extrudes must be both strong enough to support each other and wet enough to chemically bond together. The material that meets these special requirements is supplied by HeidelbergCement. Together with its subsidiary italcementi, the building materials specialists have developed a special concrete for 3D printing called i.tech 3D, which can be applied without formwork. The project is being supported by experts from the Technical University of Munich and the engineering firm Schiessl Gehlen Sodeikat.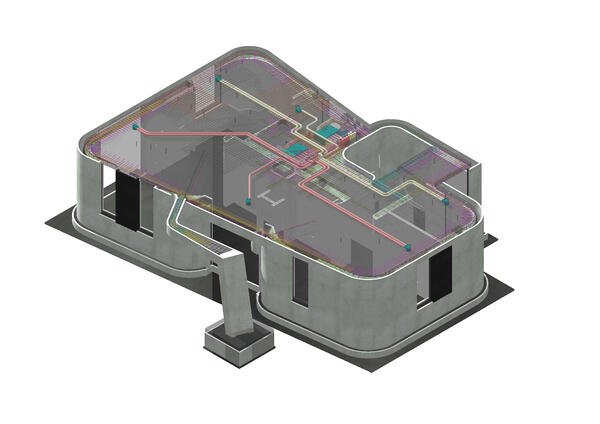 © MENSE-KORTE, ingenieure+architekten


More freedom for architects, great potential for efficiency

The process opens up new design possibilities, for example for more complex shapes, and thus more freedom for architects in planning and design. The technical basis for planning such free-form geometries is provided by the Parasolid modeling kernel integrated in Allplan. Waldemar Korte sees a further advantage in the integrative character of planning: "Interdisciplinary planning by architects and engineers in conjunction with machine production holds great potential for efficiency in the planning and implementation of buildings and building structures." In the execution, it also offers the possibility that ancillary trades, which would normally only be added afterwards, can already be implemented during the printing process.



Challenge: Preparation of 3D model data

One challenge currently still lies in the preparation of the 3D model data. The two-story single-family house with a floor space of around 160 square meters was modeled in Allplan without any problems. However, the model data then went through several software products before the printer had all the information it needed for automated production. For this reason, MENSE-KORTE and PERI are currently working with Allplan on an improved interface between CAD and the printer. This could provide some relief in the further course, because the print house is only the first of an entire housing estate that is to be printed subsequently. Once completed, the pilot house will initially serve as a show house for 1.5 years before it is finally occupied.
ที่มา https://blog.allplan.com/en/first-3d-printed-house-in-germany